Annual Church Camping Trip
August 9, 2018

-

August 12, 2018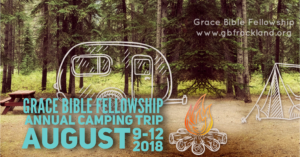 Grace Bible Fellowship welcomes all to join us for our annual camping trip at More To Life Campground in Winthrop!
The Campground is very family friendly (no drinking or smoking permitted on the property).  For more information email us at pastormike@gbfrockland.org – We will even be holding our Sunday morning service right at the campground on 08/12/18 instead of at our normal location in Rockland!
This is a HIGHLIGHT of our year, we have so much fun and we hope you will consider joining us!
Even if you can't come camping, all are welcome to join us for Sunday Morning Service at More to Life Campground, Winthrop Maine
https://www.moretolifecampground.com/
More to Life Campground: 48 Lady Slipper LN –
Winthrop, ME 04364