We believe that Baptism is an outward expression of an inward decision to follow Christ. Baptism is for those who have accepted Jesus as their Savior, and is not a requirement for salvation, but is a visible commitment to Jesus Christ.
If you'd like to be Baptised, or if you have questions about Baptism, please contact us, and we'd be happy to answer your questions!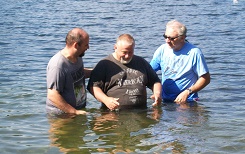 THE WAY A family of believers seeking the Truth and the Life.